Eric Johnson was born on August 17, 1954 in Austin, Texas, USA, which specializes in producing famous guitarists. He started to learn piano since he was five years old and started to touch guitar at the age of ten. After that, he was selected as the best electric guitarist in the hometown Austin Music Award for three consecutive years, and the best hollow guitar player in six years. And in the 1990 Guitar Player magazine annual reader vote, and another guitar master Steve Vai ranked as the best overall guitarist (Best Overall Guitarist). Also selected by Musician magazine as one of the 100 most influential guitarists of the twentieth century.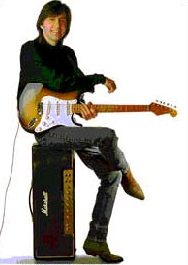 In 1986 he launched his first solo album "Tones", in which the single "Zap" was nominated for the Grammy Awards. In 1990, the second album "Ah Via Musicom" was released, which sold 800,000 copies worldwide. The single "Cliffs Of Dover" is the first song to enter the top five of Radio & Record magazine AOR with pure instrumental music, and won the Grammy Award for Best Instrumental Performance in '92. After a long wait of six years, Eric finally launched his third big man, Venus Isle, last September (1996). The single "Pavilion" was also nominated for the Grammy Award for Best Rock Performance this year.
The reason why his music is fascinating, a large part of it is derived from his personal strong demand for sound. He can spend a few weeks trying to experiment with different combinations of different instruments for the ideal tone of a certain heart. Friends even joked that he can listen to the sound and know which brand of battery is installed in the single effect device you use. But don't think that the unique sounds he has are piled up by expensive equipment. In fact, his playing style is the source of his unique tone. Even if he just connected his '54 Fender Strat to the Fender Champion, he could make his tepid, violin-like tone in a solo, or pop a sweet and full-bodied chord like a bell.
The most commonly used guitars for Eric Johnson are the '54 Fender Strat and the '58 Fender Strat. According to his own description, the '54 Strat has a softer, calmer tone when using the pickups on the bridge, while the pickups on the neck are sharper; With the '58 Strat, there is a brighter bridge sound, and the neck sound is thicker. Sometimes he also uses the Gibson ES-335. When using an acoustic guitar, use a Guild 12-string guitar, a Martin 6-string guitar, like Martin D-45 guitar, and a Ramirez nylon string guitar.
On the other hand, in his music, subtly blending elements of country, rock, jazz, blues, etc., you can hear the influence of different styles of music from Jimi Hendrix, Jerry Reed, Jeff Beck, Chet Atkins, etc. Make the listener full of surprises. For the structure of the song, the progress of the melody and the arrangement of the harmony show his persistence and ingenuity in music.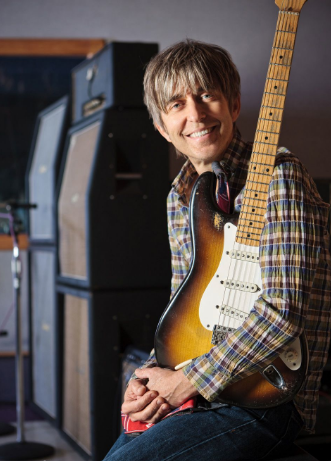 Some of Eric Johnson's tricks are:
1. Harp Hormonics
Using the thumb and forefinger of the right hand, a high-octave chord overtone pops up, alternating with the original chord sound, forming an effect like a harp-like note. As in the case of Victory (Tones), 5:53 to 6:01 is a good example.
2. Koto Effect
When using the right index finger to point out the first note, simultaneously use the right thumb to pluck the string, then release the right index finger to produce a lower pitch check. This can produce effects like a Japanese ukulele. You can also hear him using this technique at the beginning of 1:03 of Victory.
3. Hybrid Picking
Eric Johnson often uses techniques like Hybrid Picking. He can be heard in the prelude of Steve's Boogie and Cliffs Of Dover (Ah Via Musicom). This technique is mainly used when the thumb and forefinger of the right hand hold a pickup and then use other fingers to play.
Online information:
Eric Johnson's official website, where he can hear some of his latest album's songs.
Http://www.inetport.com/~jdekan/eric/
There is a very detailed Eric Johnson personal biography.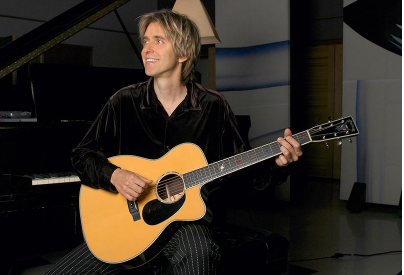 Guitar World magazine's website, in its Lessons, can see the column written by Eric Johnson
The first impression of Eric Johnson was that it wasn't long before Grammy's best pop guitarist award was won, and the album appeared on the auction CD of the Cosmos City. This may be a kind of "high quality" indicator…
In fact, it is not surprising that Eric Johnson was not an idol singer. This "King of Texas Guitar Tone" has few works and few popular solos. The reason why he is noticed because everyone is talking about him — not street smelling — but Steve Morse, Stevie Ray Vaighan, Johnny Winters, Billy Gibbon's guitar players have repeatedly mentioned his name in the interview. After that, Eric appeared in the historic live show Austin City Limits (1984), and conquered everyone's ears with a Cliffs of Dover. Unfortunately, I didn't have the chance to hear this song. Then Eric finally released his first work, which is said to be the only one in the 80s, Tones.
This 1986 work is really mellow. To be honest, I am not a hardware expert. I can't judge the extent to which Eric's skill is good. Referring to GP, Eric Johnson proved that Stratocaster (Note 1) can also make a sweet sound like a violin. And Eric lets guitarists start thinking about the resistance of different wires, or different transistors, or how different batteries can affect the final tone. When everyone is crazy about the possibility of a new amp, Eric reminds everyone that every detail in the guitar circuit can be manipulated.
The GP described it to him as having the ear of a rock musician, the cellist's skill, and the curiosity of the alchemist. GP Recommended Song: (Nothing Famous) Cliffs of Dover. From Tones (1986): Soulful Terrain, Trail of Tears. Do you want to add it? If you find this work, listen to it! Note 1: This is a long-established piano of Fender Company. There are many variants and imitations of other companies. An important type of guitar in the history of American music.
Compared to other heavy metal guitarists, Eric Johnson's music seems to be slightly soft, soothing, sensible and lacking in passion, which may be less relevant to his band practice. Eric is solid, technically skilled but not overly ostentatious, guitar playing is full of change, and the personalization of details is even more fascinating. The distinctive Eric Johnson is also a well-known "Bruce" guitarist. His accomplishments on the acoustic guitar are as good as those on the electric guitar. It is a veritable "all-round guitarist".